Water Well Repair Elgin, SC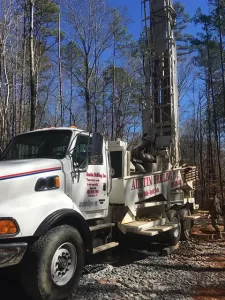 is a cut above the rest when it comes to well repair services in Elgin, South Carolina and surrounding counties. We provide quality and reliable well drilling, maintenance, and well repair, services that offer superior results with lasting peace of mind. Our team of experienced professionals is dedicated to providing excellent customer service at a competitive price.
We understand the importance of having a dependable source of water for your home or business. With us, you can rest assured that you will receive prompt, efficient well repairs no matter the size or scope of the project. Our experts are trained to diagnose the problem quickly and give accurate estimates so you know exactly what to expect before any work begins.
At Austin Drilling & Well Repair Inc., it is our mission to ensure every job is completed to the highest standards. Our team has years of experience in all aspects of well repair and installation, including pumps, tanks, and lines and proudly serving South Carolina. We also use the latest technology and tools for quick, reliable repairing wells and installation that are sure to exceed your expectations in any day of the week.
Typical Well Water Contaminants
When dealing with water well repair in Elgin, SC, it is important to understand the common contaminants and water pressure that can affect your well pump water quality. The most common contaminants in well water include:
Nitrates and nitrites, which are commonly found in fertilizers and septic systems.
Microorganisms such as viruses and bacteria from surface water sources.
Arsenic from soil runoff or industrial waste.
Heavy metals such as lead, mercury, and copper.
Volatile organic compounds (VOCs). These can come from gasoline or other petroleum products that have contaminated the groundwater supply.
Our team of skilled professionals is able to diagnose and repair any problem that may exist with your water well and will provide a solution that is tailored to your requirements. We are here to deliver dependable solutions at a price that is within your budget, whether you require a brand new pump or repairs to an old one.
You can have peace of mind knowing that the integrity of your water supply will be maintained by Austin Drilling & Well Repair Inc. Get in touch with us right away if you have any questions regarding our services!
Well Water Filtration Treatment

Austin Drilling & Well Repair Inc. provides a variety of options for using water filtration systems for customers who want to make certain that the drinking water in their homes is of the greatest possible quality. We will work with you to determine whether or not your well contains any potential contaminants and then devise a treatment strategy that will successfully eliminate any contaminants from your water supply.
With the diverse range of water filtration systems, that we have in stock, you can rest assured that your property will consistently benefit from clean and safe water. Thus, allowing you to have peace of mind.
At Austin Drilling & Well Repair Inc., providing excellent service to our customers is our number one priority. Our reputation has been founded on the provision of exceptional services that produce excellent outcomes at prices that are competitive. If you live in the Elgin area of South Carolina and are in need of well repair services, then you need look no further than our company!
Simply give us a call right now to inquire about setting up an appointment or to obtain additional details about the professional services that we offer. We are looking forward to hearing from you and assisting you in maintaining the cleanliness and safety of your water supply system.
Elgin, SC Irrigation Pump Repair And Installation
The pump is the heart of your irrigation system and nothing is better than a well-irrigated lawn and clean running water. Despite its durability, your pump is running a complicated system and is subjected to the ever-changing conditions of your yard. That implies it may break down and require maintenance and repairs from time to time. Fortunately, Austin Drilling & Well Repair is always available to provide high-quality irrigation pump repair in Elgin, SC.
Your irrigation or sprinkler system is essentially a network of pipes that are pumped with water. The pump is located near a body of water or is connected to your home's water supply. It draws water from its source and circulates it throughout the system.
The end effect of installing irrigation, is lush, green grass in a lovely yard. You won't have to worry about keeping your grass watered if you use an irrigation pump and sprinkler system.
Irrigation Pump Repair Warning Signs
Irrigation systems are designed to run mostly on their own. Because they are only serviced or winterized a few times per year, there may be a significant gap between periods when a professional inspects well repairs the pump. Keeping a watch out for sprinkler system failure might assist you in summoning assistance when necessary. Here are a few signs that your pump is malfunctioning:
No Water or Inadequate Water: Make sure your sprinkler system is properly watering your yard. Call for assistance if your lawn is dry or you detect a feeble trickle from the sprinkler heads.
Uneven Water Distribution: If portions of your lawn is getting watered while others aren't, it could be a sign of an issue with the pump well irrigation itself. Again, keep a watch on your system to ensure it is functioning properly.
Flooding Near the Pump: Check to see if there is water pressure or any standing water around the pump.
Visible Damage: If your pump is in an easily accessible location, inspect for any signs of damage. If you notice any fractures or leaks, call 911.
Elgin, SC's One-Stop Shop for Water Filtration Systems Services
Austin Drilling & Well Repair Inc. goes above and above to meet your water filtration service needs. As your Elgin, SC whole house water filtration treatment professionals, we are equipped to handle any size task. Whether you need someone to install well water filtration, repair your reverse osmosis system, or guidance on how to manage your present setup, let us show you why we're the business you can rely on.
Call Us Today for Service!
If you live or run a business in the Elgin, South Carolina area and require well drilling or well repair services, then Austin Drilling & Well Repair Inc. is the company that is best suited to meet all of your requirements.
Our group of knowledgeable professionals has the experience as well as the professional expertise required to guarantee that the business task at hand will be completed accurately at a cost that is reasonable.
Give us a ring right now to get more information about our products and services at an affordable price as well as to schedule an appointment for your well pump repair!