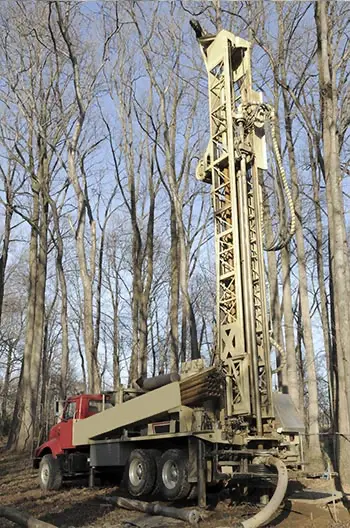 Our Mission
Austin Drilling & Well Repair Inc. was founded in 1960 by A.D. Austin and J.D. Austin in West Columbia, South Carolina. Now into our third generation, we continue as a family-owned business with a reputation for quality work, trustworthy employees and honest business practices with our customers.
Our customers know us as one of the most reliable groundwater and drilling companies in South Carolina, and a company that operates with the utmost integrity in all of our operations. It is our goal to provide safe and clean drinking water, not only to ensure the success of our business but to preserve water as a natural resource.
Through continuing education, we keep current with changes in our industry and maintain a state-of-the-art fleet with the latest technology and equipment. Our technicians are expertly trained and will work with you to design water systems to suit your groundwater situation in South Carolina. We have learned over the years that these two aspects of our business allow us to give you superior installation and service for your water system.
Our Team
At Austin Drilling & Well Repair Inc., we are proud to have assembled a well-qualified and experienced team of professionals that understands the importance of providing our customers with superior resources for their water system projects. Our team combines decades of experience installing and repairing wells, pumps, tanks, elevated storage systems, filtration systems, treatment systems and more. With the help of our team, you can be sure that your water system project will be completed safely and efficiently with excellent results.
Our Commitment to Our Community
As an active member in the South Carolina community, we take pride in providing resources to our local schools and other charitable organizations whenever possible. 
We also work to promote water conservation and preservation within our community and beyond, as water is a precious resource that must be protected. We strive to provide practical solutions for our customers' needs while also helping them to conserve water and energy resources in their homes and businesses.
We are proud of the reputation we have established throughout South Carolina for providing excellent services, knowledgeable technicians and exceptional customer service. We look forward to continuing to serve our customers for years to come. 
Why Choose Us?
We provide on-site well consultations to answer your questions and determine the optimum location for your residential or business well in South Carolina.

We utilize up-front drilling contracts to keep you informed of the scope of work.

Our state-of-the-art fleet of drilling equipment and service trucks help us to provide reliable service.

We are members of the South Carolina Ground Water Association and the National Ground Water Association, which we use in conjunction with continuing education to stay current with our industry.

Our employees are paid by the hour, not by the foot. This ensures that well depth isn't increased so that weekly footage bonuses can be met.

Our service trucks are dispatched by mobile phones to allow the fastest service possible.

Our trained employees are courteous and understanding of your needs.=