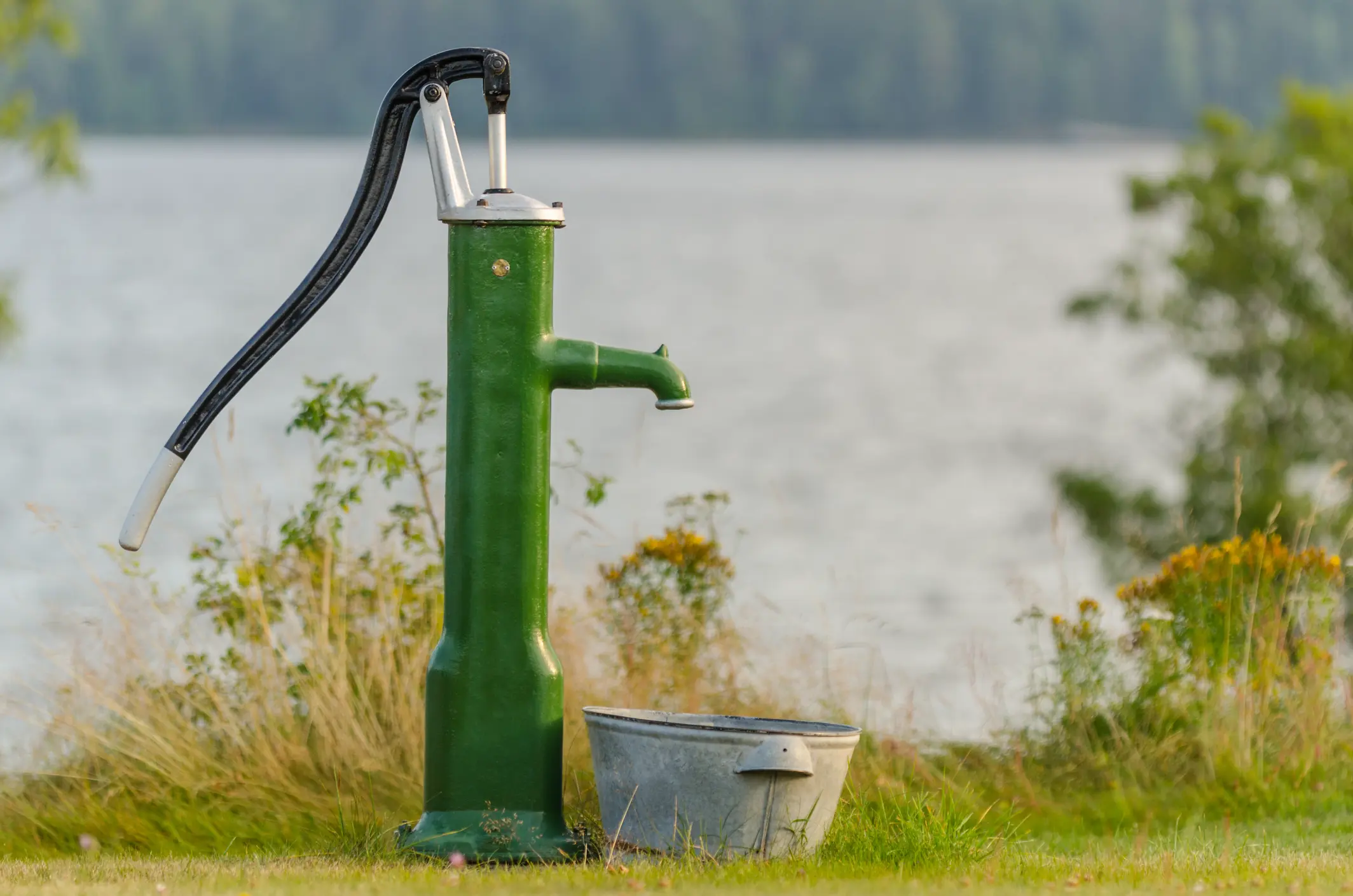 Well Water Hand Pumps in South Carolina
Austin Drilling & Well Repair Inc specializes in installing hand-operated water pumps for residential, agricultural, and community needs in South Carolina. If you live in an area without a municipal water supply, we can help you source clean water for your home with our affordable and reliable hand pumps. Our well repair contractors can guide you in choosing the right size and design of hand pump that fits your water well capacity and depth. We offer classic and cutting-edge designs of hand pumps to ensure we meet all your needs. As expert technicians in well drilling and pump repair, we go beyond just selling water pumps. We also provide that the pump specifications match your needs and that the pump is correctly installed.
Choosing the right-hand pump requires careful consideration of small details such as pipe diameter and handle length, which our well pump repair contractor will consider. Our professional installation services will give you peace of mind knowing that the pump is installed correctly, and we can also check your well and water quality simultaneously. Contact our water well company in South Carolina to learn more about our hand-operated water pump installation services.
Benefits of Well Water Hand Pumps
Hand-operated water well pumps are popular among residents in Chester County, Newberry County, Fairfield County, Kershaw, Richland, Lexington & surrounding counties, as they offer numerous benefits. With today's sleek and technologically advanced hand pumps, you can enjoy the following benefits in South Carolina:
Dependability – Hand pumps are known for longevity and can last decades. In case of a failure of a motorized well pump, a manual water well pump offers a dependable system that can e considered a backup to ensure a constant supply of water.

Adaptability – Hand pumps can be easily detached and moved to different wells, making them an adaptable solution. Depending on what you are looking for, they can also be swapped for a jet pump or submersible well pump at a later date.

Cost-Effective – For shallow wells, hand pumps offer a low-cost alternative to motorized pumps. They require minimal maintenance, typically only requiring seal replacements every three to ten years.
Safety – Our hand pumps meet Safe Drinking Water Act standards for water quality, ensuring your family's health is not compromised.
Contact Austin Drilling & Well Repair Inc to learn how hand-operated water well pumps can benefit your residential, agricultural, or community water needs.
Well Water Hand Pump Maintenance Needs
Regular maintenance and inspection services are necessary to ensure water pumps' proper function and prolonged lifespan. Despite frequent use and wear, some common issues may require professional repair:
Sputtering Water:  The presence of air in the pipes due to a malfunctioning pump or a crack/break in the water pipe above the pump may result in sputtering or spitting water. A professional well drilling company will likely need to inspect and diagnose the issue.
No Water:  A lack of water production or pump failure may occur due to low water supply caused by drought or lack of rainfall. Overuse during spring and summer can also draw down the water table below the pump depth, requiring the pump to be lowered deeper into the well.
Poor Tasting or Smelling Water:  Corroded pipes or contaminated well water may cause water with a bad taste or smell. Bacteria, silt, sand, and decaying organic matter originating from the soil above the well may contaminate the well water. Professional testing is necessary to ensure the water's safety for consumption.
Muddy or Cloudy Water:  A lowering water table and a water well pump that is consistently drawing from shallow water from areas with high sand and silt concentrations may cause muddy or cloudy water. The pump may also fail to filter out the collected silt, resulting in faster pump wear due to high abrasion.
Frequently Asked Questions about Hand Pumps
Is a Well Water Hand Pump Water Safe for Drinking?
Hand water well pumps, when installed by an expert well water contractor, can provide safe water for consumption and use. At Austin Drilling & Well Repair Inc, we aim to provide the highest quality groundwater possible by offering well water treatment systems and water softeners. Contact us to schedule water purification services and water testing.
Is it Hard to Hand Pump Water?
The ease of pumping water depends on the depth of the water. Water located at average depths can be easily pumped out with most systems. However, water that is deeper than around 275 feet will require a different sort of effort to pump up. Our well-drilling experts will determine your static water level and recommend the best pump.
What Does Static Water Level Mean? Why is it Important?
Static water level refers to the distance between the top of the ground and the water's surface in the well. The stagnant water level can fluctuate due to different and various floods, rainfall, irrigation patterns, and the use of other nearby wells. If your hand pump is bringing up less water than it used to, we can do a well water test and provide an exact water level measurement to determine what kind of well pump is required.
What if I Don't Have a Well?
If you need an active well, our well drilling company can locate the best area and drill a new well before installing a hand pump.
Are Some Wells Too Deep?
Most wells can be serviced by a shallow well hand.
Welcome to Austin Drilling & Well Repair Inc., your
A Comprehensive Guide to Installing a Hand Well Pump