Water Well Repair Chester, SC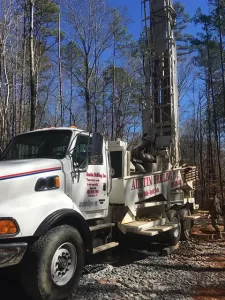 Austin Drilling & Well Repair Inc. is committed to providing comprehensive water well repair services in the Chester area. We understand how important your access to clean, safe water is and we strive to offer the best possible service for you. We are certified professionals with years of experience working with both residential and commercial customers.
We specialize in a variety of well repairs including:
Pump Repair & Installation
Water Testing
Pressure Tank Maintenance & Installation
Water Line Repairs or Replacement
Leak Detection & Repair
Our team has all the necessary tools, parts and equipment needed to solve any issue you may have. If a full system replacement is necessary, we can provide an estimate for that as well. Our technicians are knowledgeable and experienced in all aspects of well repair. We also provide ongoing preventative maintenance plans to help ensure that your well is running properly and efficiently for years to come.
Wells in Chester
We provide complete drilling services for all types of wells. Free well pump inspections are offered on-site as well as free water quality checks inside homes. All our pumps are sourced from the top brands available and have been tested for efficiency. Our service technicians are highly trained and experienced in well drilling, maintenance, repair, and water quality management.
We also provide comprehensive advice on all matters related to well water safety, such as testing for bacteria or other contaminants that may be present. Our experts will advise you on the best water treatment methods for your needs, whether that's a reverse osmosis system or an ultraviolet filter.
Well Water Filtration Systems

As part of our water well pump repair services in Chester, SC, we also offer a wide range of water filtration systems. These can help to reduce the amount of sediment, bacteria, and other contaminants from your drinking water. We will install high-quality filtration systems that are customized for your specific needs. Our filtration experts can also provide maintenance and cleaning for existing filters to make sure they are working efficiently and always providing clean, safe drinking water.
If you need help with maintaining or repairing your well system, call Austin Drilling & Well Repair Inc today! We're here to provide top-notch service and expert advice on all things related to well repair in the Chester area. Our team is eager to help you keep your water supply running smoothly for years to come.
Contact us now for more information about our services and a free quote!
Well Repair Chester
Austin Drilling & Well Repair Inc. is committed to offering superior water well repair services in Chester, South Carolina, as well as the locations immediately surrounding it. With a team of experienced professionals and state-of-the-art technology, we strive to provide our customers with top-notch service that will leave them confident about their water system.
From new well installation to repairs and maintenance for existing systems, no job is too big or small for us to handle. Whether you're dealing with a broken pump, a crumbling septic tank, or any other water-related issue, our team is here to help.
We also offer a full range of well and septic services, including repairs for existing systems and installation of new ones. With Austin Drilling & Well Repair Inc., you can be assured that your water needs are in good hands!
Plus, our extremely professional crew is dedicated to providing the highest level of customer service, from answering questions and addressing concerns to providing top-notch advice on the best course of action. We understand that water well repair is a major undertaking, so we always strive to make sure our customers are satisfied with the results.
With decades of being in the industry, Austin Drilling & Well Repair Inc.'s team has seen it all – and they know how to get the job done right. So don't hesitate – give us a call today and experience the Austin Drilling & Well Repair Inc. difference! We look forward to hearing from you.
Give us a call for further details or to get a no-obligation estimate.
Experienced Well Plumbing Technicians
Pump repair is an extremely technical skill that is best done with the assistance of a professional. Austin Drilling & Well Repair technicians provide services in Chester, SC and nearby communities on every type of well pump replacement. Our engineers come to your house to diagnose your well pump and use high-tech equipment to ensure the pump works properly.