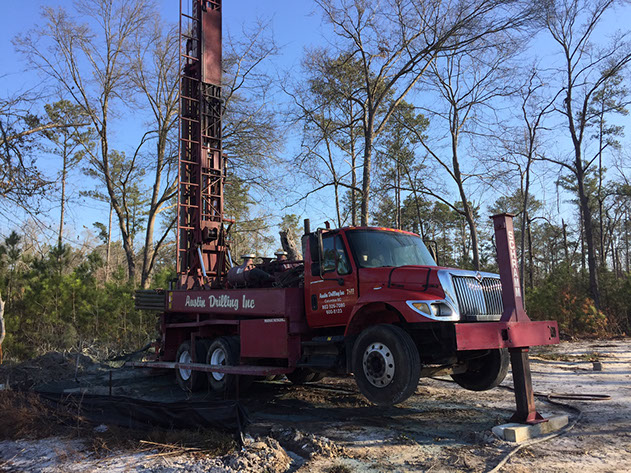 Water Well Pump Replacement Services in Newberry SC to Columbia SC and Surrounding areas
Well Pump Replacement
Expert Well Pump Replacement for Over 60 Years 
If you're in need of a well pump replacement, you've come to the right place. With over 60 years of experience under our belt, we are experts in the field and can handle your well pump replacement with speed and precision.
At Austin Drilling & Well Repair, we understand the importance of having a reliable well pump system. Whether it's for residential or commercial use, a malfunctioning well pump can cause major disruptions to your daily life. That's why we take pride in offering prompt and efficient service to get your well pump back up and running in no time.
Our team of skilled technicians is trained to handle all types of well pump replacements. No matter the make or model, we have the expertise to tackle any challenge. We use only high-quality replacement parts and state-of-the-art equipment to ensure that your new well pump will last for years to come.
What is Well Pump Replacement? 
Well pump replacement involves removing and replacing a broken pump. A well pump pulls water from the earth and sends it to a home's plumbing system. Damage to a well pump could be mechanical, electrical, or just the result of regular use. Changing out a well pump involves some steps.
First, the pump must be shut off. This needs to be done correctly and safely to avoid damage or injury. Once the power has been shut off, a professional well specialist can disconnect the pump from its wiring and plumbing connections. If necessary, they may also need to remove the old pump from below ground level.
Once removed, the replacement pump is put in place and connected to the wiring and plumbing lines. The well pump should be filled with water before the power is turned back on, to ensure there is no air lock which could damage the pump's motor. Lastly, once everything is correctly connected, the power can be turned back on and the new pump should operate as intended.
Well pumps are an important part of any home's plumbing system. If a well pump needs to be replaced, it is important to hire an experienced and certified professional who can do the job correctly and safely. Doing so will ensure that your home has clean, safe water for many years.
It is also important to note that replacing a well pump should not be attempted by anyone who does not have experience and specialized knowledge in how to safely handle the job. Doing so could result in damage or injury. If you suspect your well pump needs to be replaced, contact a professional right away for help. 
Reasons for Well Pump Replacement
There are several reasons why a well pump may need to be replaced. Here are some common reasons for well pump replacement: 
Mechanical Failure:

Well pumps can experience mechanical issues due to wear and tear over time. Components may become worn, damaged, or corrupted, leading to decreased performance or complete pump failure.

Electrical Problems:

Electrical issues, such as faulty wiring, damaged circuits, or motor burnout, can render a well pump inoperable. If the electrical components of the pump cannot be repaired, replacement may be necessary.

Age and Deterioration:

Well pumps have a lifespan, and their efficiency and reliability may decline as they age. Older pumps are more prone to breakdowns and may not meet the water demands of the property adequately.

Incorrect Sizing:

If a well pump is properly sized for its depth and water demand, it may need help to deliver sufficient water pressure or flow. In such cases, replacing the pump with the correct size is necessary for optimal performance.

Water Quality Issues:

Poor water quality can adversely affect the pump's components, leading to premature wear or damage. If water tests reveal contamination or high mineral content, replacing the pump may be required to prevent further deterioration.

Increased Water Demand:

Changes in water usage patterns or property expansion may strain the existing well pump, causing it to work harder and potentially fail. Upgrading to a higher capacity pump may be necessary to meet the increased water demand.

Catastrophic Events:

Severe flooding, power surges, or other catastrophic events can damage well pumps beyond repair, necessitating replacement.
It's important to have a professional well contractor assess the specific issues with a well pump and recommend whether repair or replacement is the most appropriate course of action. Well, pump replacement ensures reliable water supply, optimal performance, and the continued functioning of the well system.
 Pricing
The estimated pricing for well pump replacement can vary depending on several factors, including the type of pump, depth of the well, location, and any additional requirements for the specific installation. It's important to note that the following price ranges are approximate and can vary based on various circumstances:
Submersible Well Pump Replacement:

Replacing a submersible well pump typically ranges from $800 to $2,500. Factors influencing the cost include the pump's horsepower, the well's depth, and the installation's complexity.

Jet Well Pump Replacement:

For jet well pumps, the replacement cost can range from $500 to $1,500 or more. The price can vary based on factors such as pump capacity, depth of the well, and any modifications needed for the installation.

Additional Costs:

There may be additional costs involved in well pump replacement, such as electrical wiring, plumbing modifications, or any necessary permits or inspections. These costs can vary and should be discussed with the good contractor.
No matter what the cost, it's important to make sure that you are getting quality service and a reliable product. Talk to us today for an estimate on your well pump replacement and find out why we have been trusted by homeowners across the country for over 60 years!
We understand that replacing a well pump can be expensive, so we strive to offer competitive pricing and flexible financing options. Plus, our knowledgeable staff are available to answer any questions you may have about the installation process or additional costs associated with the replacement. 
Contact us today to learn more about how we can help you get a reliable well pump in your home! 
Pulling a Well
At Austin Drilling & Well Repair, we can help you pull a well. Pulling a well involves removing and replacing the existing one with a new one – an important procedure that should be left to experienced professionals. The cost of this service can vary depending on factors such as the size of the well, its depth, and any necessary modifications required for installation. 
The first step in the procedure involves evaluating the well and the work site to determine the most effective strategy. After that, we will dig a trench around the current well casing, carefully remove it from its place, and then dispose of it in a way that is friendly to the environment. 
After that, we will install a new well casing compliant with the local norms and requirements. We will hook it up to your water system and test it to ensure it functions correctly. 
Trust Austin Drilling & Well Repair to provide reliable and cost-effective well-pulling services and any other necessary repairs or maintenance. We have the experience and expertise to ensure your new well is properly installed and ready for long-term use. 
Contact us today to learn more about our services!