Water Well Repair Lugoff, SC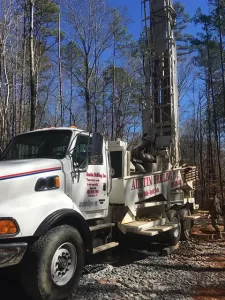 Austin Drilling & Well Repair Inc. is a specialized service company that helps homeowners, businesses, municipalities, and organizations in Lugoff, SC with water well pump repair services and maintenance.
Our experienced technicians can diagnose the source of your water well problems quickly, efficiently, and affordably. We use state-of-the-art equipment to pinpoint problems and develop solutions that are tailored to meet your project and specific needs.
We have experience repairing all types of pumps, tanks, jet systems, filtration systems, and other components related to water well systems. Our team is dedicated to providing prompt response, reasonable back times and top-quality craftsmanship at a very reasonable price. In addition to repairs for existing wells, we also provide new installations of both ground-leveled or submersible pumps as well as full system designs for custom projects.
If you are in Lugoff, SC and need professional water well drilling contractor repair services, contact Austin Drilling & Well Repair Inc. today. Our experienced and knowledgeable team will provide prompt service to get your system running smoothly again in no time. We look forward to serving you!
Well Pump Installation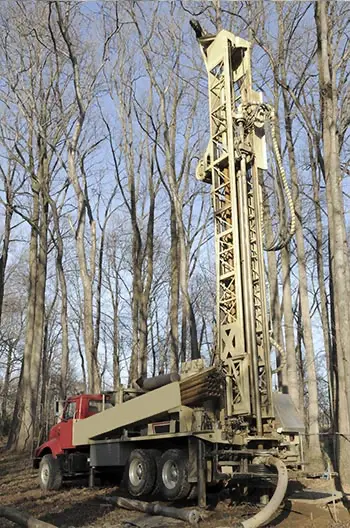 Austin Drilling & Well Repair Inc. in Lugoff, South Carolina also offers services for the installation of well pumps by trained professionals.
Our highly trained professionals have years of both knowledge and expertise installing ground-level pumps as well as submersible pumps, ensuring that they are correctly anchored and secured for the highest possible level of performance in both types of pumps.
When we work on your system, we only use components and supplies of the very best quality, so you can rest assured that it will continue to give you dependable, quality service for many years to come.
To ensure that you are able to get the water flowing again as fast and effectively as possible, our crew is accessible around the clock, seven days a week, for emergency repairs and installs. Since we are aware of how critical it is to have a water well system that is both repaired and operational, we make it a priority to deliver rapid response times, superior craftsmanship, and affordable rates.
Get in touch with Austin Drilling & Well Repair Inc. right away if you are a business located in the Lugoff, South Carolina area and are in need of well pump installation services performed by trained professionals.
Our experienced staff is here to ensure you get your water flowing again quickly. We look forward to helping you out! Rest assured that you will receive swift and reliable service from us.
Well Inspection Company
Austin Drilling & Well Repair Inc. is able to provide homeowners in the Lugoff, SC area with trustworthy well inspection services. We are well-versed in all aspects of a water well's construction and components, and we conduct exhaustive inspections to locate any potential problems as well as places that may require repair or maintenance.
Our professionals make use of the most up-to-date instruments, tools and methods in order to guarantee that the entire system is inspected in a manner that is both comprehensive and precise in order to identify any potential issues with precision.
Our priority is to ensure that your well is functioning effectively. So, we provide timely response times, our pricing, superior craftsmanship and competitive rates without compromising on quality. After we have finished our inspection, we will compile a comprehensive report for you that will detail our findings and include our suggestions for how the problems, if any, can be fixed or maintained.
Call now to learn more about us!
Contact Us Right Away!
We at Austin Drilling & Well Repair Inc. are the only ones who can accomplish it to a higher standard than anyone else. We are the most trusted company in the Lugoff, South Carolina area regarding water well repair services.
Our team is experienced and knowledgeable in all facets of well maintenance. Our staff members have the training and experience necessary to manage any challenge, whether it be making minor repairs or replacing the entire system. We can assist you with making either little tweaks or substantial overhauls.