Water Well Repair Blythewood, SC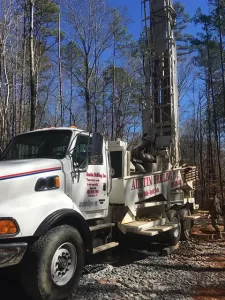 If you own a home or a business in the Blythewood area of South Carolina and need dependable water well repair services, then there is no need to seek any further. When it comes to the maintenance and repair of your water well, Austin Drilling & Well Repair, Inc. is here to give you the highest-quality service possible for well repairs.
Because we recognize how important it is for your house or company to have a well that is in good operating order, we make every effort to deliver prompt and effective repairs so that you can resume using clean drinking water as soon as possible.
Our specialists have years of expertise working with all different kinds of wells, ranging from shallow residential wells to deep commercial water systems. They have received extensive training in this field. Thanks to our collaboration with various water supply sources, we are confident that you will always have access to safe and drinkable water.
We are the most trusted company in Blythewood, South Carolina, when it comes to repairing water wells thanks to our considerable knowledge and experience in the field. When your well isn't performing correctly or requires maintenance work to be done, we at Austin Drilling & Well Repair Inc. understand how stressful this situation may be for you. We prioritize offering you prompt and reliable service tailored explicitly to your needs.
We're One of Blythewood's Top 10 Well Pump Repair Companies
Signs that Your Well Needs Repair and When to Call a Professional
So you think your well might need repair? Here are a few signs that will help you know if it's time to call in the professionals:
If there's a sudden drop in water pressure – or worse, no pressure at all. Water pressure is important for a variety of reasons; too low and you won't be able to get the job done.
If the water smells or tastes funny suddenly. Water shouldn't smell bad or taste strange, so if it does, something's probably wrong with your well and a professional should take a look.
If you notice staining in your water. It could be rust, sediment, or even algae – all of which are signs that something's wrong and should be addressed.
If your pump is running longer than usual. If it's taking more time than usual to get the water out, this could mean a number of issues with your well pump or your system as a whole – so don't wait!
Bottom line: if you're not sure what's going on with your well, it never hurts to call in an expert. Even if the problem turns out to be something easy enough to fix yourself, you'll at least have peace of mind knowing that a pro looked it over!
Well Water Filtration Systems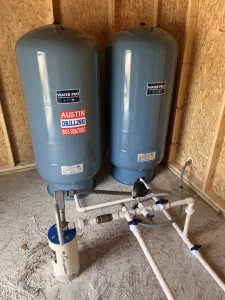 Austin Drilling & Well Repair Inc. also offers services for the installation and maintenance of well water filtration systems.
We understand the vital role clean drinking water plays in your life. That's why we have highly-trained professionals who specialize in installing top-notch filtration systems that are tailored to meet your water supply needs.
If you live in the Blythewood area of South Carolina and are in need of professional well repair or the installation of a new filtration system, please do not hesitate to get in touch with us as soon as possible. One of our friendly and knowledgeable specialists will be more than happy to assist you.
We are thrilled to be of service to you in ensuring that you have access to clean and safe drinking water, and we look forward to working with you!
Well Pump Installation
Austin Drilling & Well Repair, Inc. offers professional services for the installation and repair of well pumps. Our skilled experts have received extensive education in this area, giving them the ability to diagnose and repair any issue that may be plaguing your well pump.
In order to ensure that your pump will continue to function for a considerable amount of time after our repairs, we only use parts of the highest possible quality. We understand the importance of providing safe, clean drinking water in your home or place of business. That's why we always make sure to repair any issues quickly and effectively for your convenience.
If you are located in the Blythewood area of South Carolina and need assistance with the installation or repair of a well pump, don't wait to contact Austin Drilling & Well Repair Inc. for any of your needs!
Our team is prepared and eager to be of assistance to you in any manner that we can. We strive to give you the greatest possible level of service so that you can have peace of mind knowing that your water pump will be operating correctly and dependably in the shortest amount of time possible.
Top 6 Signs You Need to Install a New Well Pump
You may be looking for some other signs that your well pump needs to be replaced. Here are a few more indicators to watch out for:
Your water pressure is inconsistent – If it seems like you have low water pressure one moment and then the next, your well pump could be failing. This is especially true if the inconsistency happens every time you use a faucet or appliance that requires more water pressure.
You hear strange noises – A functioning well pump should be nearly silent when it's running, so if you're hearing noisy sounds like grinding, thudding, and rattling, this could indicate an issue with your pump.
The motor won't stop running – If the electric motor powering your well pump doesn't know when to quit, this could be a sign that it needs to be replaced. You'll want to check the switch and wiring as well, just in case something else is causing the issue.
You've had multiple repairs – If you find yourself making frequent trips out to the well house for repairs, this could mean that the cost of these repairs is starting to add up and it would be better to just buy a new pump.
The pump's age – Well pumps usually last around 10-15 years, so if you know your pump is getting close to that age, it may be time for a replacement before any major issues arise.
You're experiencing water quality problems – If you're noticing changes in the taste, smell, or clarity of your water, it could mean that your well pump needs to be replaced. In this case, you'll want to have a professional come out and take a look before making any decisions.
No matter what signs you're seeing, it's always best to call an experienced well technician to come out and take a look at your pump. They'll be able to determine if an issue needs to be addressed or if it's time for a replacement.
If you're in need of well pump installation, repair, or maintenance services, Austin Drilling & Well Repair Inc. can help! We have experienced technicians on staff who are dedicated to providing top-notch service to our customers. Contact us today for more information!
Highly-Rated Local Well Pump Repair Services
Whether you're dealing with a malfunctioning well pump or simply need routine maintenance, our local professionals have the knowledge and expertise to get your water flowing smoothly again. Don't settle for subpar service when it comes to something as important as your well pump – trust the experts who have proven themselves time and time again.
We Offer Other Services in Blythewood, SC
Water Pressure Assessment
How We Can Help You Maintain Your Water Well
At Water Well Solutions, we have a team of knowledgeable and experienced personnel ready to help you keep your water well in optimal working condition. Through our services, we can assist you with anything from regular maintenance and inspection to more complex repair jobs. We understand how important it is for your family or business to have access to clean, safe drinking water. That's why we strive to provide reliable and timely service so your well can keep pumping out the cleanest water possible.
By choosing us, you can have peace of mind knowing the experts are in charge of all your needs.
We are committed to providing an exceptional customer experience, from our initial consultation all the way through to any necessary maintenance work.
We use state-of-the-art equipment to accurately identify issues with your water well before they become problems, and our technicians are highly trained to diagnose and repair any potential issues.
Plus, you can rest assured that all of our work is done in accordance with government regulations and standards. We've got your back when it comes to water well maintenance!
If you need any help or advice about maintaining your water well, don't hesitate to reach out to us. Our friendly staff is always happy to answer any questions you may have, and we look forward to helping you keep your water well in good working order. Contact us today to learn more about our services!
Explore Our Solution Center for Helpful Articles About Well Pump
If you're looking for helpful articles about well pumps, you've come to the right place! Our Solution Center is packed with informative content to guide you through everything you need to know about well pumps.
Whether you're a homeowner in need of troubleshooting tips or a professional looking for advanced maintenance techniques, our articles cover a wide range of topics. From choosing the right well pump for your needs to understanding common issues and how to fix them, we've got you covered.
You'll find valuable insights, step-by-step guides, and practical advice that will help you keep your well pump in top shape.